JMF Disco provides a fun and active School Disco Dartford service for your:
Primary school disco
Prep school disco
Secondary school disco
Academy disco
College disco
University disco
and school proms in Dartford
Our aim is to provide you with all the help you need, from your initial phone call to seeing your happy children leaving after a great time, at your perfect party provided by School Disco Dartford.
JMF Disco's School Disco Dartford service will provide you with the great entertainment you want for your pupils school disco - why settle for anything less?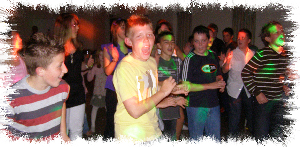 Call or email JMF Disco about your Dartford School Disco to find out how we can help you.
Have a look at the Kids Disco page for more details of the Kids Disco service we offer and call us to discuss how we can help make your school's disco very special, and less stressful for you!
Remember Monday - Thursday bookings are cheaper than those on Fridays or Saturday evenings (Top Tip: sometimes teachers prefer to stay a little later on a Thursday evening rather than a Friday evening!)
Book early to avoid disappointment - everyone wants their school disco in the last week of the term!
Contact School Disco Dartford on Tel 01795 429777, Mobile 07895 546183 or by email to discuss your School Disco and School Prom needs or questions.
School Disco Dartford Resources: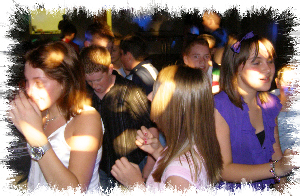 JMF Disco offers a special School Disco service throughout Dartford. Included in the School Disco Package is:
- an experienced DJ to play the music and run any games and competitions they want
- an impressive sound and light show - 'the full disco experience' not just a couple of lights and a boom box!
- Provision of a School Disco Planner to help plan your perfect school disco including:
- Timeline to set out what you want to happen and when
- List of party games to choose from (you can add any particular favourite as well)
- Music request list - let us know their particular favourite songs and we will play them (we know what they like but give you the opportunity anyway - slot in a few of the teachers' or PTA members favourites anyway - we won't tell anyone!)
- All the current top tunes, party classics and party dances the kids want!
Fully Insured and Equipment PAT Tested for safety
Payment terms and conditions to suit your Payment Systems
Full Time Professional DJ giving you prompt quotations, help and advice throughout the week - even on Tuesday mornings! (no waiting for Jim the lorry driver part time DJ to phone you back when he gets home from work to let you know he can't do Thursday afternoons!)
Prompt professional service you can rely on.
Our Latest Mobile Disco Music 29th March 2017
Providing you with complete mobile dj and wedding disco DJ hire service means that we have to stay current with all the up to date chart releases, as well as adding to our extensive library of varied music and party tunes throughout the years.
Our great mobile DJs have a wide musical knowledge of many different genres gained over the years and, maybe more importantly, know the right track to play next with to keep the dance floor full.
Here are some of the recent requests made by our clients on the request lists in Party Planner Packs that we provide them with for their parties and new releases : Passionfruit - Drake, Symphony - Clean Bandit, KMT - Drake, Blem - Drake, No Long Talk - Drake, Get It Together - Drake, Portland - Drake, Madiba Riddim - Drake, Gyalchester - Drake, Skepta Interlude - Drake, Free Smoke - Drake, Teenage Fever - Drake, 4422 - Drake, Play That Song - Train, You Want me - Tom Zenetti, Fine Wine - Yxng Bane, Nobodys better - Fetty Wap, Addison Lee - Not3s, Scars To Your beautiful - Alessia Cara, Turn Around - Geko, Try Everything - Shakira
We look forward to finding what are your favourite party tunes to dance the night away to are soon!